Tailor Your Tools to Your Workflow
Build Web UIs with Python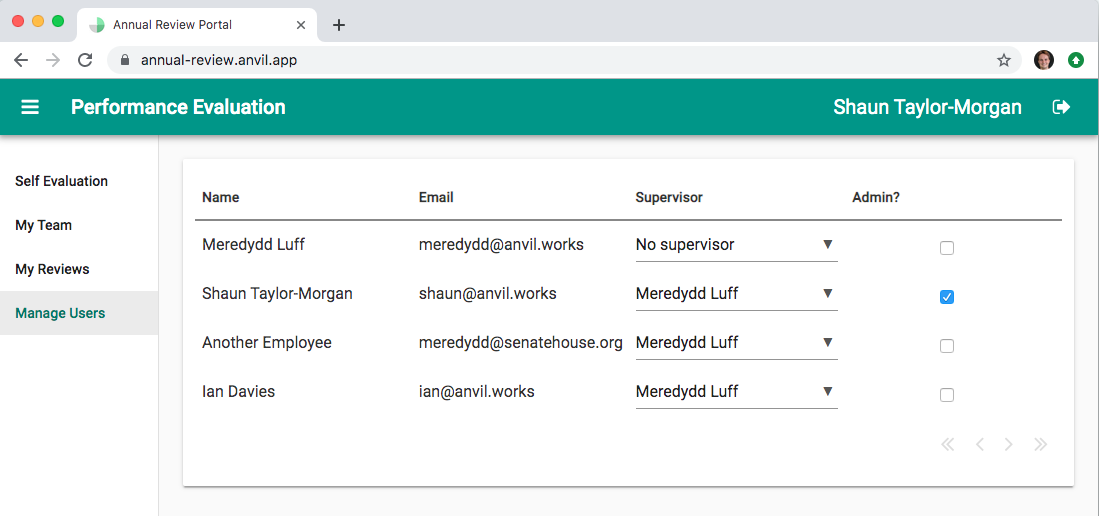 You can write your whole web app in Python – no Javascript or HTML required!
Use all your favourite Python libraries to build your code – and the drag-and-drop designer makes building UIs a breeze.
Build What You Really Need
Requirements are always changing. By building tools yourself, you can iterate rapidly to meet today's requirements – not the requirements from six months ago.
You never know exactly what you want, so it's very good to have a fast, easy way to try something. Writing user stories [for an external dev team] wasn't a tempting prospect at all.
Anders Kalland
Platform Manager, RiksTV
Integrate with your business
No app is an island – it has to fit into your workflow. Anvil makes it easy to integrate with your existing business processes, with:
One-Click Cloud Deployment
Anvil's cloud hosting saves you the dev-ops fuss. Publish applications with one click, with powerful access control.
You don't really have to worry about hosting. You don't have to worry about your deployment pipeline. You can just write some simple code and then start using it.
Anders Kalland
Platform Manager, RiksTV
Install On-Site in 15 Minutes
If you need Anvil deploying on your own premises, or in your private cloud, it's a snap! Anvil's On-Site Enterprise edition is supplied as Docker images, and installs in under 15 minutes.
Contact enterprise@anvil.works for a trial.
Deploy 7 times faster
We've done the tests. Building an internal tool in Anvil was seven times faster than building the same app with traditional tools – even for experienced web developers!
I built the first version of the front-end UI with Anvil in a week or two. Maybe a week.
Anders Kalland
Platform Manager, RiksTV
Build for Free
It's free to get started with Anvil, and build your MVP. So what are you waiting for?
Find out more
Anvil is perfect for building exactly what you need, fast. Check out these articles and tutorials to see for yourself:
Use Cases
You could use Anvil to build:
…and much more! Try Anvil yourself: