Now back to the Anvil Editor. We'll modify each line of the table to contain input components so the user can change the items that already exist.
Double-click on the Repeating Panel in your Data Grid and drop TextBoxes into the Quantity and Name columns. Call them text_box_name and text_box_quantity respectively.
Set the Quantity TextBox to be type number.

These TextBoxes are going to display the values we read from the database when we refresh. Since we are inside a Repeating Panel, we can access the values for each row as self.item (see the docs on Repeating Panels for more information).
Set up a Data Binding for each TextBox to get the relevant value into its text property. Be sure to uncheck 'Write back'.


Now go to the code for RowTemplate1.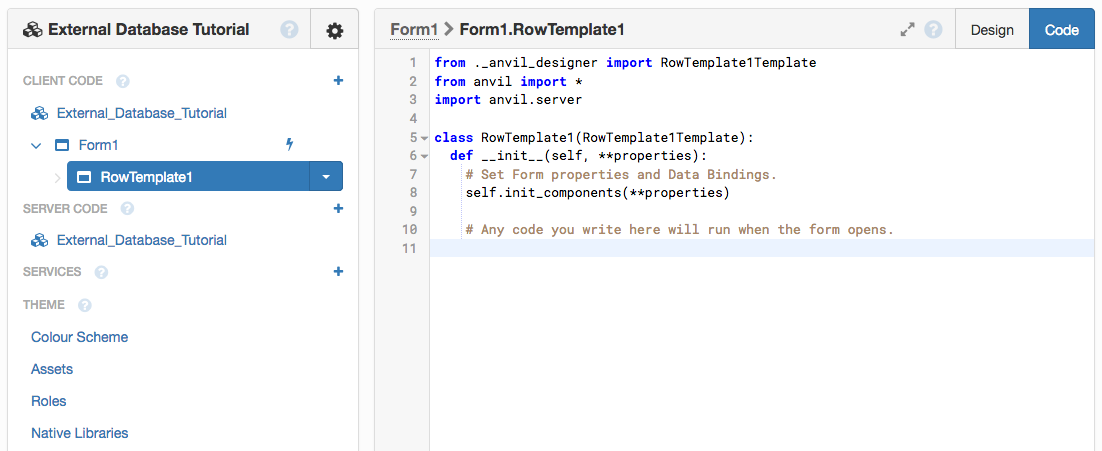 Write a method to call when the values are changed:
  

def

 

update_item

(

self

,

 

**

event_args

):


    

anvil

.

server

.

call

(


      

'update_item'

,


      

self

.

item

[

'id'

],


      

self

.

text_box_name

.

text

,


      

self

.

text_box_quantity

.

text

,


    

)
Bind this method to the pressed_enter and lost_focus events of each TextBox:

Now run your app. You'll find your table is full of TextBoxes that update the database every time they are modified.