See What Our Booth Visitors Built at PyCon UK
This year, for the first time, we were proud sponsors of PyCon UK 2017. We thought we'd do something new – we would give out a T-shirt to anyone who built an app with Anvil during the conference.
We weren't quite sure what to expect. The answer: People! We got a little swamped at times: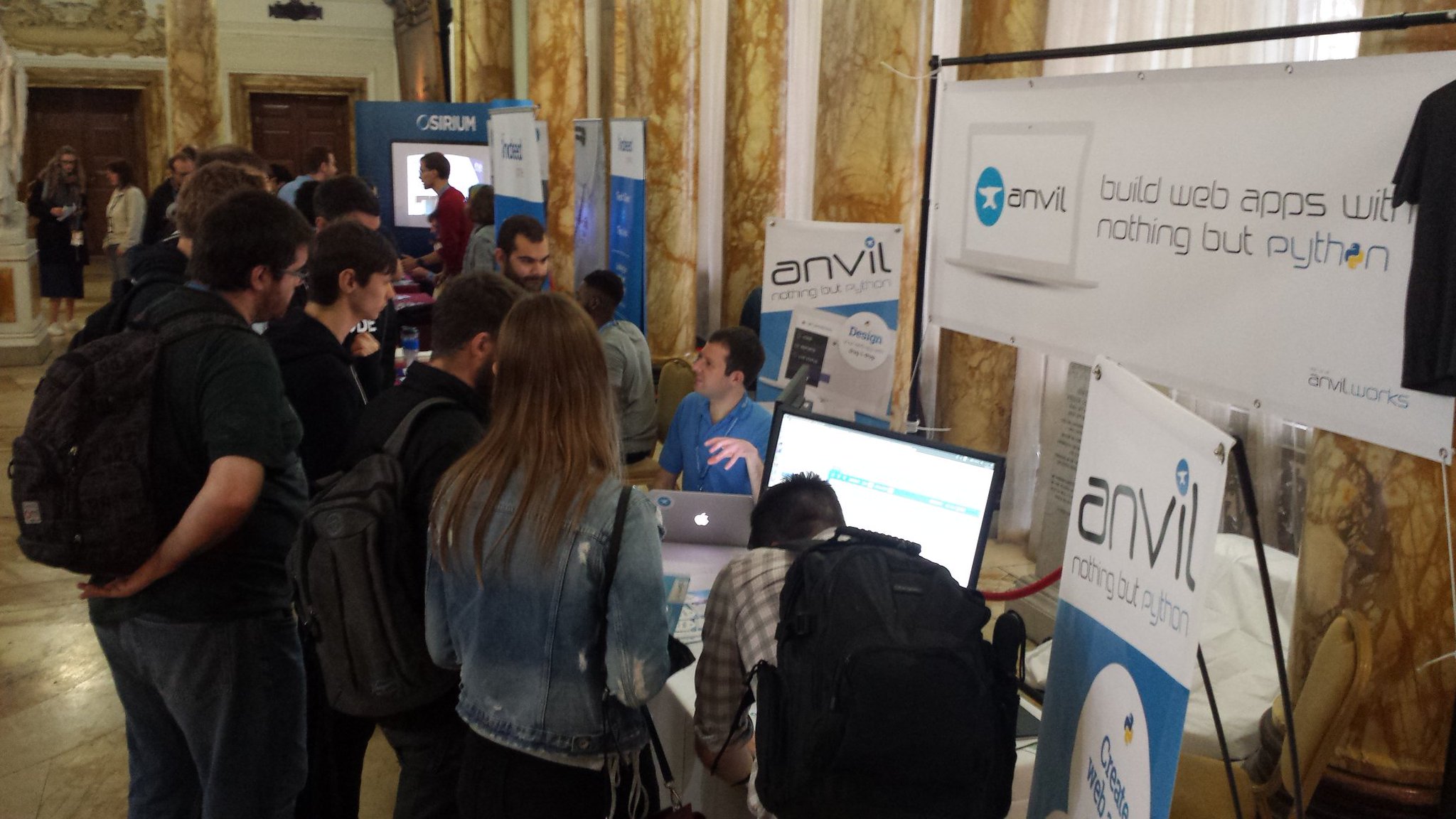 But the apps they built were even more impressive. Here are some of the apps they built, between Thursday morning and Sunday evening:
---
Tom Newport: Membrane Protein Dynamics
Tom Newport built an impressive front-end for the MemProtMD protein simulation database, in just 45 minutes.
Follow Tom on Twitter: @tnewport
---
Adnan Fiaz: Hangman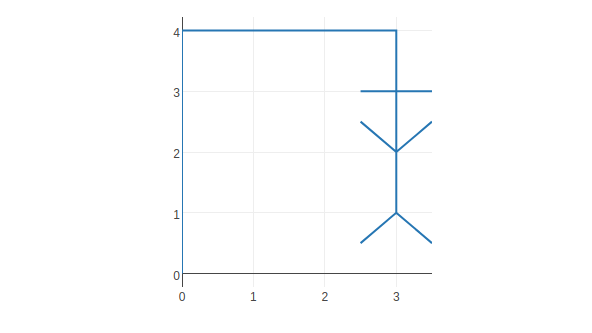 Adnan built a hangman game in between sessions on Saturday. Being a data scientist, he even used the Plotly API to draw the stick figure! (Most people would use the Canvas or Image components, but hey – there's no accounting for taste.)
Fair warning: the word list is wickedly hard. Good luck!
Follow Adnan on Twitter: @tapundemek
---
David Steven-Jennings: Pictures from Reddit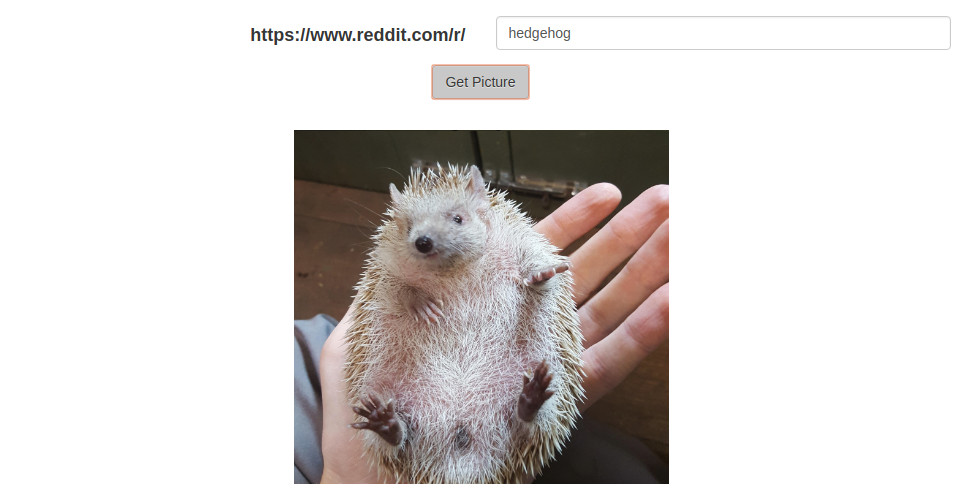 David's app uses the Reddit API to fetch a random image from the top 25 posts on a specified subreddit. Pictured: A particularly adorable hedgehog.
Visit David's website: davidsj.co.uk
---
Matt Stibbs: Ecological Data Processing
Matt regularly processes ecological observations with a Jupyter notebook. He pasted his code into an Anvil server module, and before long he had an app into which he could upload raw CSV data and receive exactly the analysis he needed.
Follow Matt on Twitter: @MattStibbs
---
Helena: Educational Adventures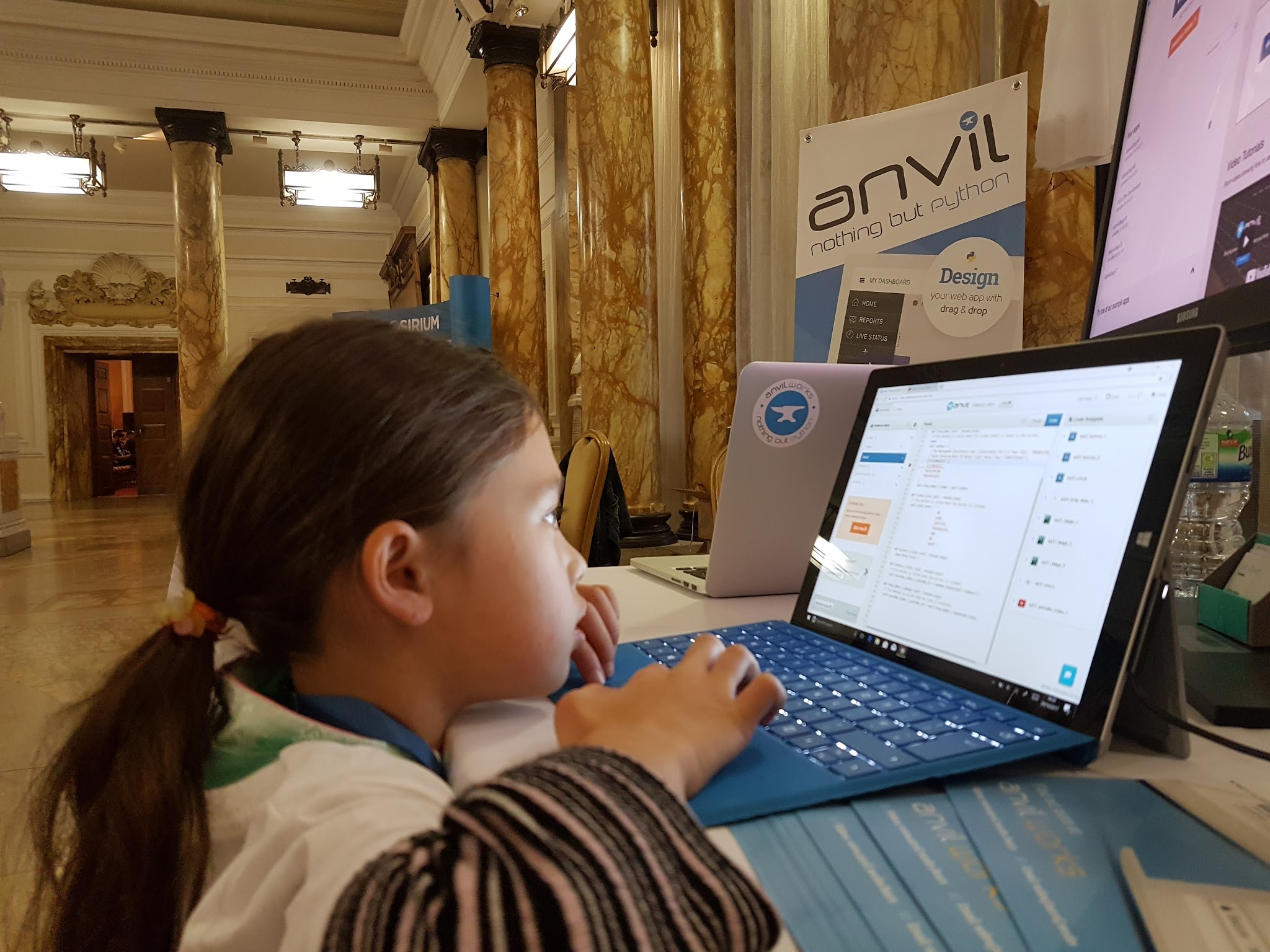 Helena (8 years old) came straight from the excellent educational workshops at the conference, and wanted to build a website. By the end of Sunday evening, she had built a YouTube video picker, and a database-backed picture storybook.
Follow Helena's dad on Twitter: @orionrobots
---
Other Reflections
For our part, we built 140 demo apps over four days, and sounded like Louis Armstrong by the end of Sunday. (Anyone else in the same position: Throat sweets are your friend!)
With over 700 attendees, this PyCon UK was the biggest yet. It still felt a lot more intimate than PyCon US back in May, which was four times the size, and despite being spread over four days rather than two, the talks were much more popular – there was almost nobody in the hallway during the session.
There was a huge, and welcome, focus on education. The Raspberry Pi and Micro:bit foundations were very well represented, running sessions on many days of the conference. We had younger kids giving lightning talks, and one particularly impressive 13-year-old giving a main-track talk about the C cross-compiler he had written for the original BBC Micro.
PyCon UK provided more examples of the Python community's global focus on inclusivity. I particularly want to call out the provision of a creche, which - along with the children's sessions - enabled many more parents to enjoy the conference. This is the sort of thing I would love to see becoming standard.
The conference ran like clockwork, and we really cannot thank the organising committee enough. Peter Inglesby appeared to be everywhere at once, and simultaneously a calm (and calming) presence. We had a great time, and look forward to seeing everyone again next year!