We're hiring!
Help us fix web development. Web development is way too complicated – you've got Javascript, HTML, CSS, SQL, and frameworks coming out of your ears. So we built Anvil: a simpler way for anyone to build full-stack web apps, entirely in Python. Anvil is a web framework; it's an online code editor; it's a GUI builder; and it's a hosting platform. And you'll be helping us with all of it. (Read more about us)
We're currently looking for an interesting, adventurous person to join us in the following role:
What's it like working here? Read more about Anvil, and hear from the team who already work here:
---
Digital Marketer ➔ Python Developer
Full-time (part-time/flexible also available); Cambridge, UK; on-site or semi-remote
We're looking for someone with digital marketing experience and an interest in programming, to drive our marketing strategy while building their software development skills.
You'll be taking ownership of the marketing we're already doing, including organic SEO, website copywriting, email campaigns, YouTube, sponsored videos, and social media – but we're still exploring what works, so we want your expertise to develop our approach. We don't know what we don't know about marketing – as you're learning about development from us, we'll be learning about marketing from you! You'll be working particularly closely with our team of Developer Advocates.
We think this role would be a particularly good fit for someone who's been working in digital marketing and has already begun to explore programming. Perhaps you've been working through online tutorials, books or courses, or perhaps you're already using VBA or deep Excel magic. Anvil is about making programming accessible to people like you, and you'll be getting hands-on support from peers and managers, plus dedicated learning time during the work-week, as you skill up as a developer.
As you grow your development skills, you'll start building internal tools for campaign management, measuring growth, managing customer relationships, handling job applications, and more (mostly in Anvil, of course). And the more you know, the better you'll be at marketing a developer tool like Anvil.
It's rewarding work. Developers love being introduced to Anvil (our booth is always crowded at conferences); you'll be learning the craft of development from experts; and soon you'll be building the real-world software that keeps our startup going.
This role gives you a lot of options: Perhaps you'll become a super-powered technical marketing lead, writing the code that drives and analyses our campaigns (marketers who can code are basically unstoppable). Perhaps you'll evolve into a developer advocate role, showing people how to use Anvil, or become a software developer building the Anvil platform itself. Whatever path you choose, you'll have our support and a solid set of skills to do it.
If you would like to apply for this role, please apply here. If you have questions about the role, you can drop us a line at recruitment@anvil.works.
What's it like working here? Read about us, or hear from the team who already work here.
(Direct applicants only; no agencies please)
---
On-Site and Semi-Remote Work
Thanks to the pandemic, we are all temporarily working from home, and meeting up for regular picnics – but once it's safe to return, you will be based in our stylish office in central Cambridge.
If you don't live in Cambridge, we are open to "semi-remote" working: Once it is safe to work in the office, you would be coming here around once a week to work in the office with us. Drop us a line for more details.
---
About Us
Anvil is a platform for building full-stack web apps with nothing but Python.
Developers say it's "so easy it feels like cheating". Businesses love getting things built 7 times faster. If you haven't tried it out, or checked out a video demo, we promise you it's worth it.
We're an early-stage startup, but we're already profitable and growing fast.
Your responsibilities will be wide-ranging, and you'll get to shape where Anvil goes next. (And yes, you will get meaningful equity.)
We have a supportive company culture.
We are humans first and entrepreneurs second. All roles offer part-time or flexible working, and we believe that a diverse company is best-placed to serve our diverse users.
(And we walk the walk: Read what it's like to work here, or meet the team.)
---
What's it like working here?
" Anvil is a fantastic place to work. I'm working with some of the smartest people I've ever met; there seem to be no bounds to their engineering talents and I am continually wow-ed by the things we build. Most of all, they're incredibly passionate about what they do and it's a pleasure to work with people who genuinely believe in what they're creating.
As well as being ludicrously talented software developers, my colleagues are incredibly supportive and eager to help me grow and develop. They're very happy to pause what they're working on to sit down and walk through a new concept or feature with me, and I have learnt an incredible amount since I joined the team. We have a very open working culture, where everyone is listened to and which welcomes and encourages discussion.
I feel proud to be part of such a collaborative, encouraging and talented team that is building something so powerful. "
Bridget Grimshaw
Software Developer
" Put simply, working at Anvil is fantastic!
I'm passionate about great products and every day I get to work in a team of people driven towards one goal, making a great product. I get to develop as an engineer and writer, while having my ideas listened to and acted upon.
The team are easily some of the best engineers I've ever worked with. Best of all, they are great teachers who take the time to explain new concepts.
Day to day, my work is very varied. My work can be anything from marketing to engineering, all with a focus on clear meaningful objectives. I'm very happy working at Anvil and cannot recommend it enough."
Ryan Britnell
Developer Advocate
Anvil at Conferences
We don't spend all our time at conferences (and none at all since 2020!) – but when we go, we get lots of attention: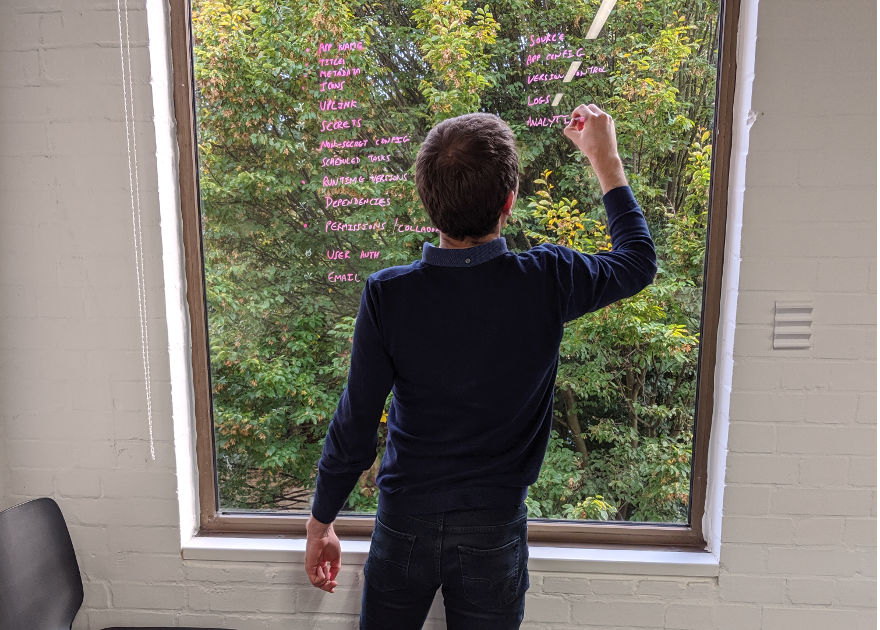 Applying
If you'd like to join our team, please head over to apply.anvil.app. If you still have questions about the role, you can email us at recruitment@anvil.works.
We look forward to hearing from you!
(Direct applicants only; no agencies please)