You can create a copy of your apps' design, code and Data Tables. You can also allow other people to copy your apps. Each app has a secret URL for this purpose.
Select 'Share app…' from the Gear Menu

.
You will see a dialog showing a 'clone link' for your app. Anyone with this link can copy your app with all its source code into their own Anvil account:
If you visit this URL in your web browser, you will be taken to the Anvil Editor, and there will be a confirmation dialog containing the name of the app and its author.

If you click Make Copy, you will get an app named 'Clone of X' (where X is the name of the original app).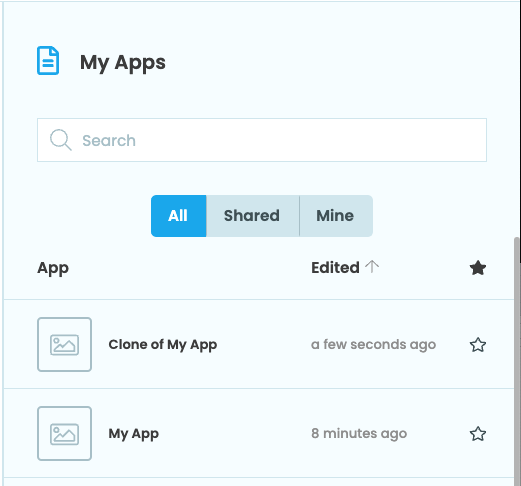 The original app is not affected in any way by this operation.
Clone links have the form:
https://anvil.works/build#clone:<app_id>=<secret_token>

You can regenerate the <secret_token> in case you want to revoke access to your app from people who currently have the clone link. The <app_id> is a unique ID for your app that never changes (you can access it from code using anvil.app.id.)
Note that using a clone link will always share the latest version of the app, including the content of all Data Tables. Make sure you regenerate the secret token if you have previously shared a Clone Link and subsequently add sensitive data to your app.
---