Executive Summary
Mark Breuß wanted to build an all-in-one web-based solution for bakeries to manage orders, sales and production. After choosing Anvil, he managed to build a production-ready product in ten months and was profitable 3 months later. With Anvil, Mark built a SaaS for better bakery management while saving time, money and hassle.
Working prototype in less than 6 months
Production-ready product in 10 months
Profitable within 3 months
6 months after launch, Mark.One works with 10 companies and is continuing to grow
The Challenge: Creating Software for Medium-Sized Bakeries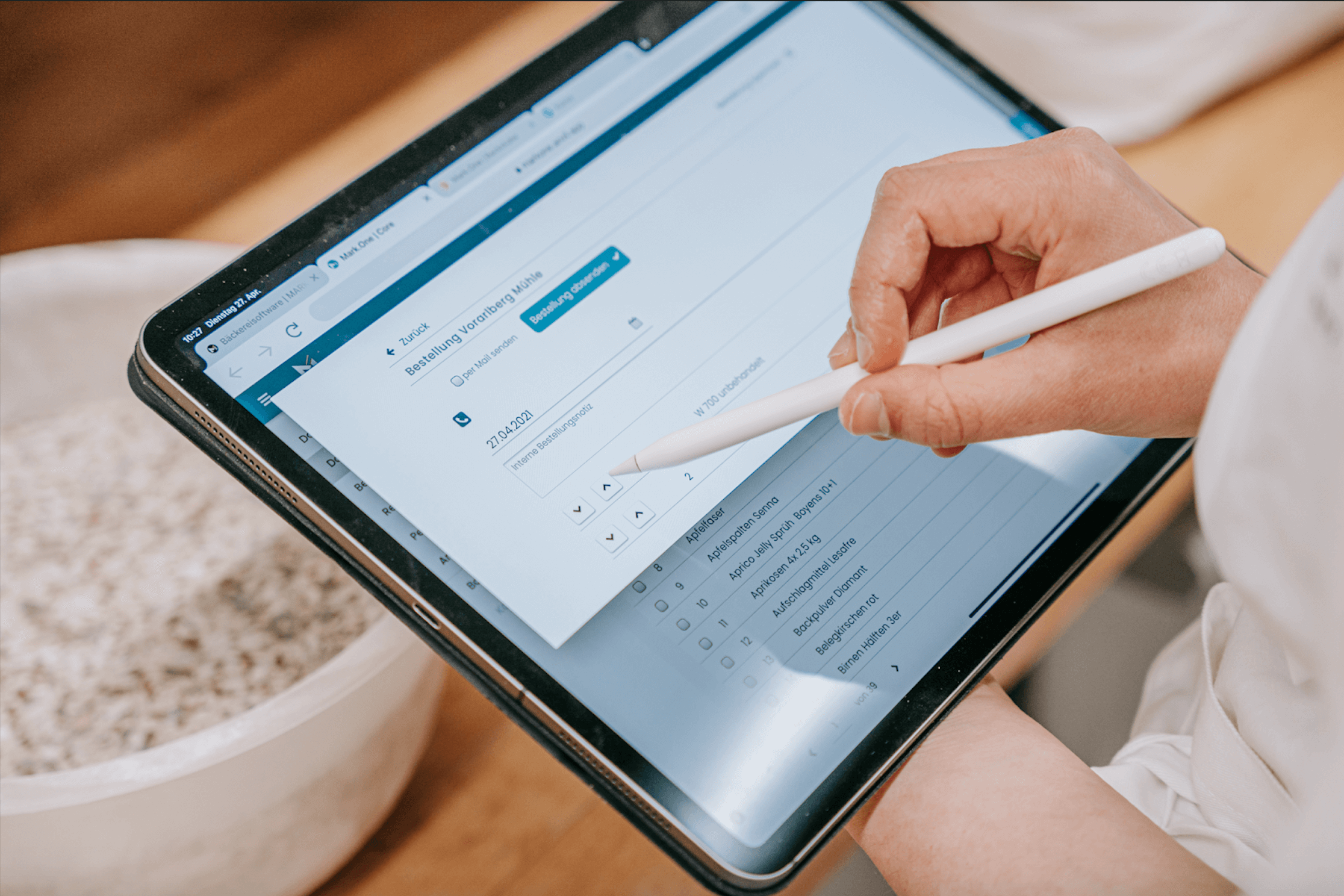 How does one decide to build software specifically for bakeries? For Mark Breuß, it was a no-brainer. Back in 2011, his father, who owns a bakery in Austria, wanted to buy better software for his business, but the cost was proibitive. So Mark decided to write the software himself. Ten years later and now equipped with a degree in Data Science, Mark decided to make commercial software for other small- and medium-sized bakeries. And so Mark.One Bakery was born.
Why do bakeries need software anyway? Everything in a bakery needs to be produced in advance. Dough has to rest before being baked into bread and different doughs take longer to rise - some need a few days. Demand for the finished goods can vary day by day – based on day of the week, public holidays, and even the weather – and when you need to think that far ahead, it's nearly impossible to make the right decisions. So bakeries overproduce: In Vienna alone, approximately 70 tons of bread is wasted each day.
The challenge for Mark.One was to create software that could predict how much of each ingredient to order, when to make dough, how much dough to make and when to actually bake that dough. To do this, they needed to build software that could collect as much information as possible and analyze it to make accurate predictions. It made sense to build a web application, but Mark knew Python and data science, not web development. That's why Anvil was the perfect solution.
The Solution: An All-in-One Bakery Software as a Service
When we started the project we decided to build a web application, which led us to all major frameworks…[only Anvil] gave us the all-in-one experience we were looking for.
Mark Breuss
Founder and CEO, Mark.One Bakery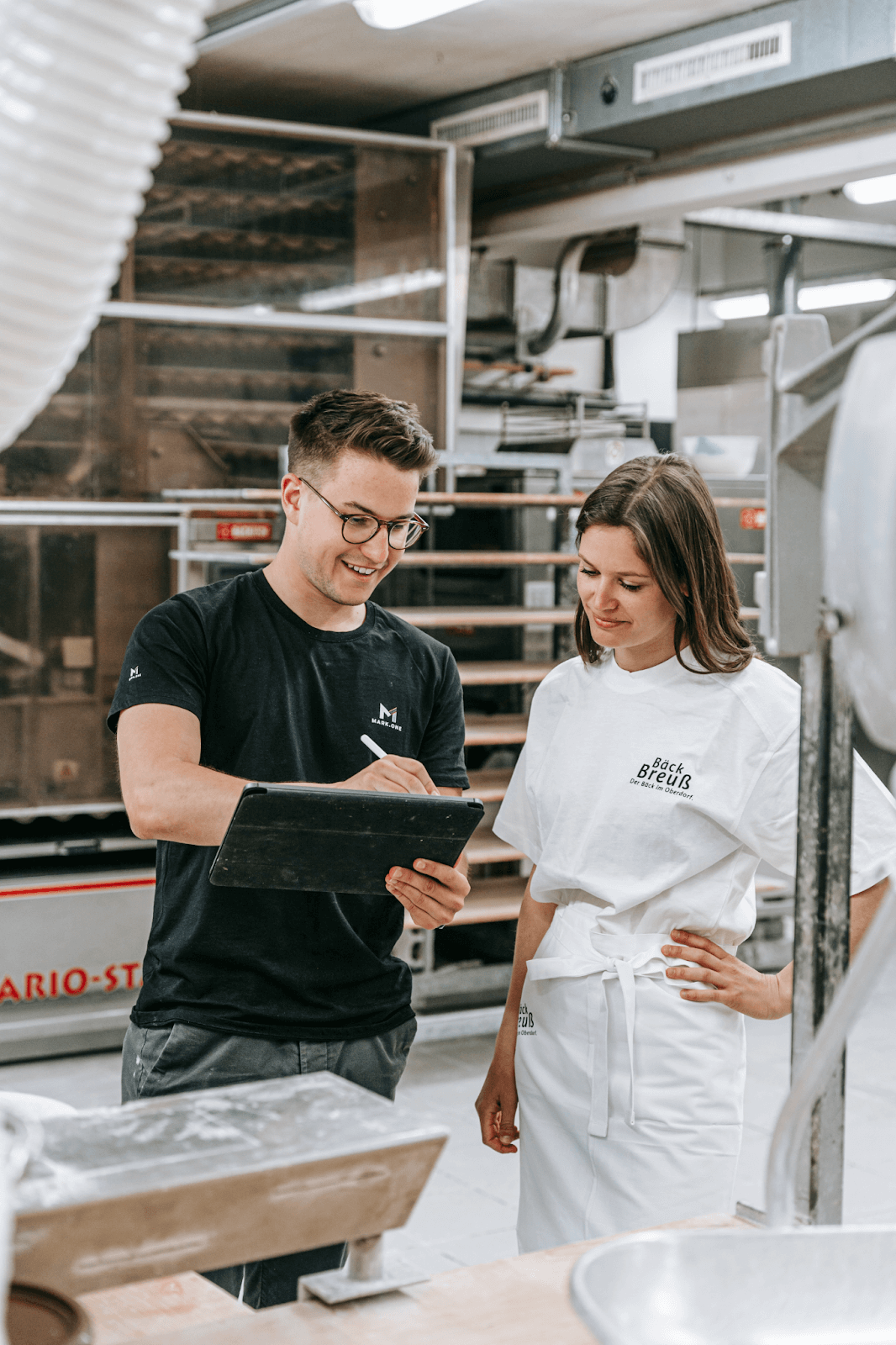 The Mark.One Bakery software is an all-in-one system designed to help small- and medium- sized bakeries make better decisions and reduce food waste. The software links together all parts of the bakery - from the point-of-sale system, to the recipes and product lists to information on suppliers and large orders.
Mark.One Bakery then sources all of the information it has to make a "to do" list for the bakers, telling them exactly how much dough to make and what to actually bake each day. In this way, the software works together with the bakers to help them make the right amount of product while reducing food waste.



The all-in-one architecture of the software means that the Mark.One AI knows about every item ever sold and produced. With this information, the AI creates accurate production suggestions which are refined with input from the bakers. Every day, the decisions are analysed and improved for the next day.
The Anvil drag-and-drop designer is so simple we were able to let our UI designer (who is not a programmer) work directly within the editor. This helped to speed up development more than we would have guessed.
Mark Breuss
Founder and CEO, Mark.One Bakery
The Results: From Prototype to Product to Profit
By using Anvil, the Mark.One team was able to massively speed up their production time. The seamless integration of client and server code helped them to handle complex tasks within the web framework, and one-click deployment meant fast test/development cycles.
Anvil is the fastest tool out there. Why use a slower tool?
Mark Breuss
Founder and CEO, Mark.One Bakery
With Anvil, the Mark.One team was able to build a working prototype in less than half a year, and a production ready product in about 10 months. Three months after lanuch, they were profitable. They now work with ten different bakeries and are still growing.
More Information
Mark.One Bakery is an innovative web-based SaaS for managing all the components of a bakery in a single software package. To learn more, visit www.markone.at.
Anvil is a platform for building powerful applications quickly. Anvil's design, development and hosting tools build on the industrial-strength Python language to deliver results 7 times faster than traditional web development. Find out more at anvil.works.
Learn more about Anvil
Get in touch with us to learn more about how you can best use Anvil, and arrange a demonstration of what Anvil can do. Just leave your email address or phone number and we'll get back to you right away.