Hi there, I'm a novice when it comes to python and anvil.
I'm following this article exactly but I keep running into the following error: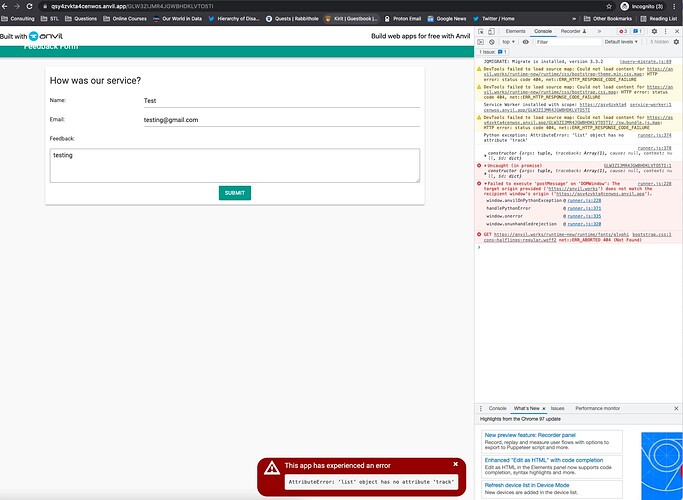 Here is the project URL: Knack 4 Freedback
I'm trying to add Segment's JS library, identify a user, and send a track event on button submit (following the article exactly).
The JS library loads fine as I can see the .page event in Segment, but when I try to submit the button and send a .track event, I get an error in Anvil.
Here is my Anvil code (using the feedback project), can someone please help me understand what I may be doing wrong?
from ._anvil_designer import feedbackformTemplate
from anvil import *
import anvil.server
import anvil.tables as tables
import anvil.tables.query as q
from anvil.tables import app_tables
from anvil.js.window import analytics


class feedbackform(feedbackformTemplate):
  def __init__(self, **properties):
    # Set Form properties and Data Bindings.
    self.init_components(**properties)

    # Any code you write here will run when the form opens.

  def submit_button_click(self, **event_args):
    # NEW line:
    analytics.track("Feedback submitted")
    
    name = self.name_box.text
    email = self.email_box.text
    feedback = self.feedback_box.text
    
    anvil.server.call('add_feedback', name, email, feedback)
    
    Notification("We have recorded your feedback, and sent an email to the owner of this app.", title="Thanks!").show()
    
    self.clear_inputs()
    
    
  def clear_inputs(self):
    self.name_box.text = ""
    self.email_box.text = ""
    self.feedback_box.text = ""

Please help!! Thanks everyone.