Performance is 10x worse on Anvil as compared to the same code executed on uplink
I recently came across the interesting fact that the same code executed on a connected uplink (e.g. my Laptop) runs 10 times faster than on Anvil's full server.
Result of comparison
The following screenshot shows the execution times for generating the same plot on Anvil's full server (~ 5s) and on the connected uplink (~0.5s).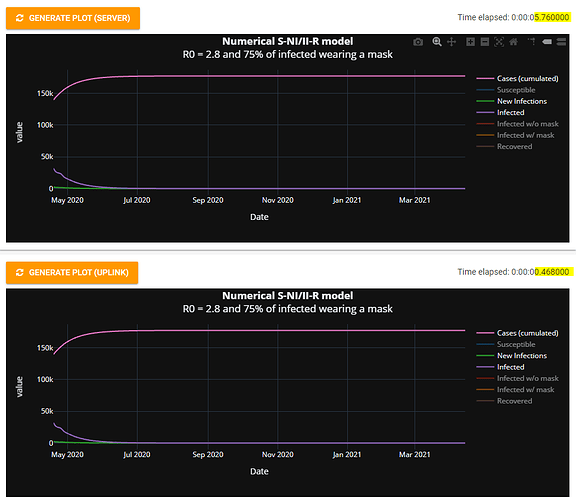 Benchmarking against local creation of the plot
Creating the plot locally on my Laptop in a Jupyter Notebook also requires only 0.5s.
My question
Would be interested to hear whether Anvil is that slow for you, too, or whether this applies only to me.
As I am on a professional plan I'd expect a performance that is at least on par with my Laptop, but not 10x worse. But maybe I am expecting too much?
App for performance comparison (using my uplink)
Clone link - if you want to run the performance comparison with your own uplink
https://anvil.works/build#clone:MYVIXSIBQ4EYLTIB=FDNOGS2ECIEHSI5JYAPSAOSV
To run your own uplink for the copied app
Clone your copy of the app to a local directory on the machine your uplink will run on
Copy the uplink key of your app and substitute it in the below steps for <your uplink key> (I assume bash on Linux here)
# pip install pandas plotly # uncomment if not installed yet
cd PlotGenerationPerformanceTest
export ANVIL_UPLINK_KEY=<your uplink key>
python uplink/plotting_on_uplink.py