What I'm trying to do:
I am trying to build a local server for an Anvil app using the online shop template.
What I've tried and what's not working:
Although it works well on the online editor, I am encountering an error message when I run it on my computer. The shopping list is not showing up, even though I haven't made any changes to the code.
Screenshot: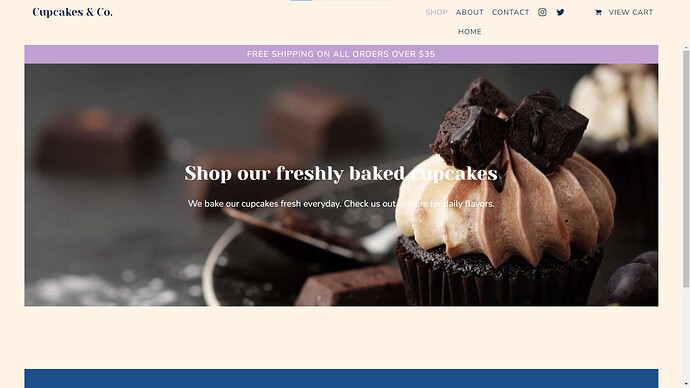 Error message:
2023-01-22 15:15:22 [ERROR anvil.util] Reporting uncaught exception in GET /_/get_stripe_publishable_keys
2023-01-22 15:15:22 java.lang.NullPointerException
2023-01-22 15:15:22     at anvil.runtime.server$fn__5657.invokeStatic(server.clj:832)
2023-01-22 15:15:22     at anvil.runtime.server$fn__5657.invoke(server.clj:831)
2023-01-22 15:15:22     at compojure.core$wrap_response$fn__4892.invoke(core.clj:158)
2023-01-22 15:15:22     at compojure.core$wrap_route_middleware$fn__4876.invoke(core.clj:128)
2023-01-22 15:15:22     at compojure.core$wrap_route_info$fn__4881.invoke(core.clj:137)
2023-01-22 15:15:22     at compojure.core$wrap_route_matches$fn__4885.invoke(core.clj:146)
2023-01-22 15:15:22     at compojure.core$routing$fn__4900.invoke(core.clj:185)
2023-01-22 15:15:22     at clojure.core$some.invokeStatic(core.clj:2693)
2023-01-22 15:15:22     at clojure.core$some.invoke(core.clj:2684)
2023-01-22 15:15:22     at compojure.core$routing.invokeStatic(core.clj:185)
2023-01-22 15:15:22     at compojure.core$routing.doInvoke(core.clj:182)
2023-01-22 15:15:22     at clojure.lang.RestFn.applyTo(RestFn.java:139)
2023-01-22 15:15:22     at clojure.core$apply.invokeStatic(core.clj:659)
2023-01-22 15:15:22     at clojure.core$apply.invoke(core.clj:652)
2023-01-22 15:15:22     at compojure.core$routes$fn__4904.invoke(core.clj:192)
2023-01-22 15:15:22     at compojure.core$routing$fn__4900.invoke(core.clj:185)
2023-01-22 15:15:22     at clojure.core$some.invokeStatic(core.clj:2693)
2023-01-22 15:15:22     at clojure.core$some.invoke(core.clj:2684)
2023-01-22 15:15:22     at compojure.core$routing.invokeStatic(core.clj:185)
2023-01-22 15:15:22     at compojure.core$routing.doInvoke(core.clj:182)
2023-01-22 15:15:22     at clojure.lang.RestFn.applyTo(RestFn.java:139)
2023-01-22 15:15:22     at clojure.core$apply.invokeStatic(core.clj:659)
2023-01-22 15:15:22     at clojure.core$apply.invoke(core.clj:652)
2023-01-22 15:15:22     at compojure.core$routes$fn__4904.invoke(core.clj:192)
2023-01-22 15:15:22     at anvil.runtime.sessions$with_app_session$fn__567.invoke(sessions.clj:466)
2023-01-22 15:15:22     at anvil.app_server.run$wrap_constant_app$fn__1598.invoke(run.clj:156)
2023-01-22 15:15:22     at compojure.core$routing$fn__4900.invoke(core.clj:185)
2023-01-22 15:15:22     at clojure.core$some.invokeStatic(core.clj:2693)
2023-01-22 15:15:22     at clojure.core$some.invoke(core.clj:2684)
2023-01-22 15:15:22     at compojure.core$routing.invokeStatic(core.clj:185)
2023-01-22 15:15:22     at compojure.core$routing.doInvoke(core.clj:182)
2023-01-22 15:15:22     at clojure.lang.RestFn.applyTo(RestFn.java:139)
2023-01-22 15:15:22     at clojure.core$apply.invokeStatic(core.clj:659)
2023-01-22 15:15:22     at clojure.core$apply.invoke(core.clj:652)
2023-01-22 15:15:22     at compojure.core$routes$fn__4904.invoke(core.clj:192)
2023-01-22 15:15:22     at clojure.lang.Var.invoke(Var.java:381)
2023-01-22 15:15:22     at anvil.app_server.run$wrap_with_origin_scheme_and_port$fn__1677.invoke(run.clj:271)
2023-01-22 15:15:22     at anvil.app_server.run$wrap_provide_source$fn__1654.invoke(run.clj:210)
2023-01-22 15:15:22     at ring.middleware.json$wrap_json_response$fn__1524.invoke(json.clj:139)
2023-01-22 15:15:22     at ring.middleware.flash$wrap_flash$fn__371.invoke(flash.clj:39)
2023-01-22 15:15:22     at ring.middleware.session$wrap_session$fn__472.invoke(session.clj:108)
2023-01-22 15:15:22     at ring.middleware.keyword_params$wrap_keyword_params$fn__510.invoke(keyword_params.clj:53)
2023-01-22 15:15:22     at ring.middleware.nested_params$wrap_nested_params$fn__560.invoke(nested_params.clj:89)
2023-01-22 15:15:22     at ring.middleware.multipart_params$wrap_multipart_params$fn__773.invoke(multipart_params.clj:173)
2023-01-22 15:15:22     at ring.middleware.params$wrap_params$fn__789.invoke(params.clj:67)
2023-01-22 15:15:22     at ring.middleware.cookies$wrap_cookies$fn__22378.invoke(cookies.clj:214)
2023-01-22 15:15:22     at ring.middleware.absolute_redirects$wrap_absolute_redirects$fn__892.invoke(absolute_redirects.clj:47)
2023-01-22 15:15:22     at ring.middleware.resource$wrap_resource_prefer_resources$fn__797.invoke(resource.clj:25)
2023-01-22 15:15:22     at ring.middleware.content_type$wrap_content_type$fn__856.invoke(content_type.clj:34)
2023-01-22 15:15:22     at ring.middleware.default_charset$wrap_default_charset$fn__872.invoke(default_charset.clj:31)
2023-01-22 15:15:22     at ring.middleware.not_modified$wrap_not_modified$fn__845.invoke(not_modified.clj:61)
2023-01-22 15:15:22     at ring.middleware.x_headers$wrap_x_header$fn__342.invoke(x_headers.clj:22)
2023-01-22 15:15:22     at ring.middleware.x_headers$wrap_x_header$fn__342.invoke(x_headers.clj:22)
2023-01-22 15:15:22     at anvil.app_server.run$wrap_retrieve_original_remote_address$fn__1671.invoke(run.clj:267)
2023-01-22 15:15:22     at org.httpkit.server.HttpHandler.run(RingHandler.java:117)
2023-01-22 15:15:22     at java.util.concurrent.Executors$RunnableAdapter.call(Executors.java:511)
2023-01-22 15:15:22     at java.util.concurrent.FutureTask.run(FutureTask.java:266)
2023-01-22 15:15:22     at anvil.core.worker_pool$run_one_task_BANG_.invokeStatic(worker_pool.clj:54)
2023-01-22 15:15:22     at anvil.core.worker_pool$run_one_task_BANG_.invoke(worker_pool.clj:38)
2023-01-22 15:15:22     at anvil.core.worker_pool$launch_thread_BANG_$fn__5659.invoke(worker_pool.clj:93)
2023-01-22 15:15:22     at clojure.lang.AFn.run(AFn.java:22)
2023-01-22 15:15:22     at java.lang.Thread.run(Thread.java:750)