Hi, I'm trying to build a conversion tracking app with Anvil using local browser cookies. The logic is simple:
The app generates a campaign_url and has a destination url where to redirect traffic. When the campaign_url is called, the app stores a local cookie with a generated uuid on the browser and the stores the same on the database. Then it redirects to the destination site.

When the user reachs the thank you page on the destination site, a request is fired through an iframe which tells the app a conversion was made. The app checks the browser for the cookie it stored before, and if it finds a cookie, then a conversion is saved on the database
What is working:
The app stores the cookie on the browser and on the database
Redirects to the landing page
What is not working:
When the request on the iframe tries to read the cookie value, the value is empty. When I check on the browser, the cookie exists and is sent on the request, but I don't know why the app cannot access it
Browser showing stored cookie on thank you page:

Cookie beign sent by the http request on thank you page to the app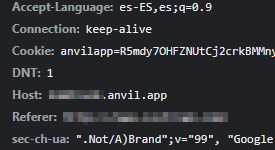 Code used to read cookie and write cookie:

As you can see on the image, when I write the cookie, I'm re-reading the cookie it and the information is there. But when I try to read it on the conversion api endpoint I get "null"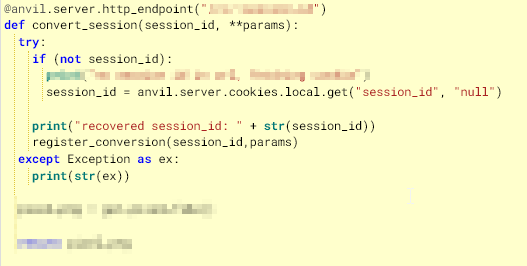 I'm new to Anvil so maybe I'm missing something here. I would appreciate any help.
By the way, If I remove the redirection on step one, and paste the conversion endpoint to the same browser window, everything works fine!
Adding to my previous tests, I did a manual test using Postman (which stores cookies on the cilent side) instead of a Browser and it worked! There must be something going on with the redirection.