My app accepts a large spreadsheet (10-20k rows x ~8 columns) and loads them to two datatables. The next time I upload the spreadsheet, the code seeks out new records or modifications and updates the datatables accordingly. This works OK.
In another part of the app, I now interact with the records. Common operations include: "give me twenty random records", "show me all records that look like X", "get me a random record that looks like Y." While in this part of the app, there will be many such interactions. Previously, I was making a db call for each transaction, but I was paying that lookup tax every time – ~2-5 seconds. I've pivoted to now trying to pay the tax all at once upon launching the screen, instead of upon each transaction. Now, with the data now residing in the client, the screen load takes a while (which I'm OK with), but subsequent interactions are lightning fast. I'm impressed with Anvil; my friends are impressed with Anvil. All is good.
However, as the underlying tables have grown, my 30 second limit is regularly exceeded. I converted my large calls to background tasks. Being on the Personal Plan, I hoped I would no longer see the timeout issues but still am. The server is running Full Python 3. In some cases, if the calls return fast enough, I receive the Downlink Disconnected error (due to how much data is getting returned). I love, love, love the Anvil product and very much hoping to stay entirely within its boundaries.
Other things I've tried to reduce return times include, but are not limited to:
returning a generator and building the list client-side (was taking ~15m)
converting the datable to a Pandas dataframe and returning a list of dicts (that's the current implementation)
pickling and/or parqueting
Here is my current construction:
client code

server code that launches my background tasks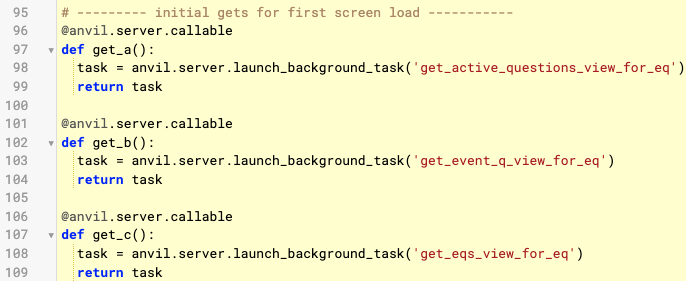 Below is the code run four times. Seeking feedback on how to remedy both errors – or even alternate approaches.
Background task on Personal Plan producing "Server code took too long".
"Downlink disconnected".
Trial #1:


Trial #2:


Trial #3:


Trial #4: