Hi All, I'm looking for a little perspective here. One of my non-Anvil web applications heavily uses the jQuery DataTables plug-in (sample shown below):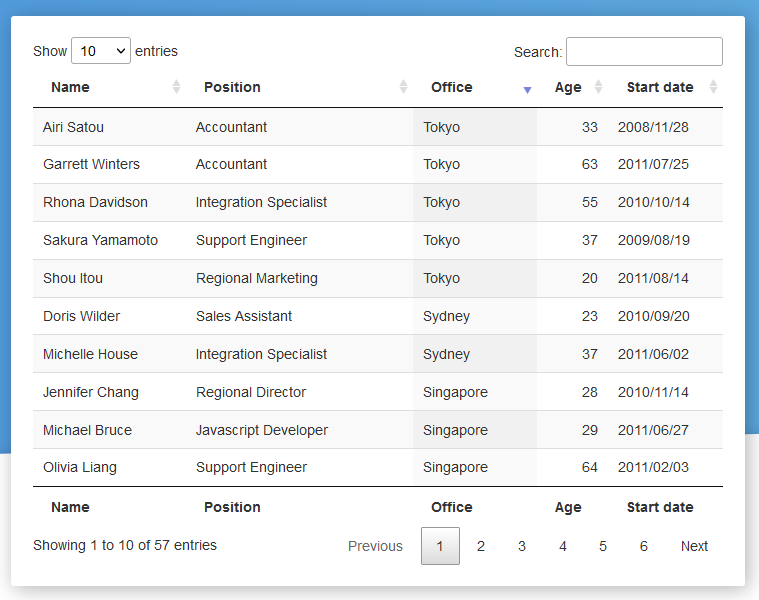 I've taken advantage of some of the customizations you can do with DataTables, but nothing really crazy like multi-column sorting.
Anyway, I am considering moving this over into an Anvil (loving it a lot

) app and this one data presentation component is giving me a pause. I've looked at both the datagrid component and the repeating panel component and neither have sorting or filtering built-in. I'm not opposed to adding that functionality in via code and some sort of UI elements, but am just a little wary of it being a little more complicated than I think it is, or maybe performance not being quite snappy. In my other application, I'm populating the DataTable via an AJAX call to a cloud-hosted SQL Server database and it is quite responsive even on a dataset of maybe 600 to 700 records. Each record is comprised of maybe 20 columns of text, none of which are more than 20 or so characters. On a large dataset, the initial call takes a few seconds, and then once loaded, sorting and filtering is really quick.
Initially, I'm thinking I run a call to SQL Server and bring back all data rows and storing that in a dictionary and populating a datagrid with that. For sorting, I'm thinking of probably just a lambda function. For filtering, not quite sure, but maybe I have to go back to that original dictionary and repopulate the datagrid with only records that match a filter word. I expect a little performance hit, and that is okay.
Anyone tackle a similar migration? Should I just dig in and start working through the Anvil equivalent? Or perhaps there is some way to implement a jQuery DataTable in Anvil?
Thanks in advance,
David